Ama Dablam 2022 (2023, 2024 …)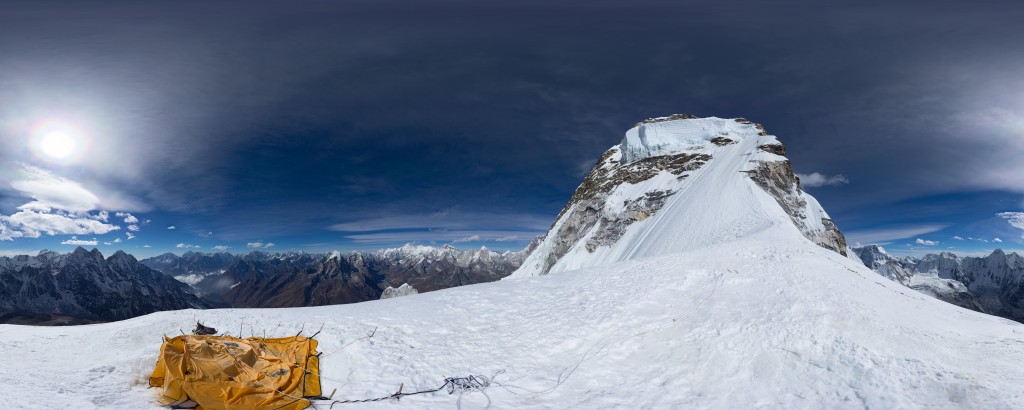 ---
A Special Note on The Political Situation
In the past few years Nepal has made the news due to a variety of different political and diplomatic incidents as well as the intervention of Mother Nature. Despite these hiccoughs Nepal in general, and the popular trekking regions in particular, have actually remained very safe areas for travellers and mountaineers.
Bearing in mind that we have had London bombings, occasional riots, the odd national strike, frequent flooding, BSE, Foot and Mouth, warm beer and The Spice Girls – if a tourist were to ask you if the UK is safe to visit what would you say?
By the same token Nepal is still a safe country to travel to if you stay away from any unsafe areas. And you can rest assured that The Khumbu is about as safe as you get.
If the situation were to become so serious that the Foreign and Commonwealth Office were to decree that Nepal was not safe for us to travel through then naturally the trip may need to be postponed or cancelled.
Go to Foreign and Commonwealth advice page on Nepal
If the FCO does not issue advice against travel then a disinclination to travel on the basis of a perceived threat or hazard, howsoever formed, will be interpreted as a voluntary cancellation and the relevant cancellation charges will apply.
Please also see the notes associated with insurance below.
Another Special Note – this time about safety & 'The Dablam'.
In recent years there have been a couple of incidents that have caused people to come up with all kinds of theories. Tragically in 2006 there was an accident affecting the site of Camp 3, killing 6 people. This was initial misreported as The Dablam falling off. Indeed one report was from a chap in Australia who wasn't in Nepal and hadn't even been there that season. Further investigation revealed that it was actually an avalanche from above the Dablam. There had been an unusually big dump of snow in late October which then released an avalanche in the middle of November. This was very unusual and an unprecedented occurance.
Then in Oct 2007 there were some reports that as much as 50% of The Dablam had fallen off. Before the November trip I managed to get a photograph from a friend who was in The Khumbu at the time and was able to ascertain that it was perhaps a 10% chunk, if that, that had fallen off. And it was stuff from the far left and middle of The Dablam that had come off where all the mass had been, not to the right where the route goes. When we arrived at Base Camp it actually looked less 'angry' and heavy and, as mentioned earlier, the weight had been removed and the tension had been alleviated. Anyway, to be double safe, the route was pushed well off to the right to ensure that it was away from the fall line. We also used Camp 2.9 rather than the original site of Camp 3 and, as a consequence of these factors, we managed to put 7 members and 2 Climbing Sherpas safely on the summit.
Unfortunately at the beginning of November 2014 a Climbing Sherpa was killed and 3 clients injured when some ice fell from the right side of The Dablam. We arrived at Base Camp with this news very much at the forefront of our collective minds and we observed the state of The Dablam on a daily basis through the telescope. We also gained quite a lot of corroborating evidence from other teams abotu the state of the ropes (great), the state of the route (great) and the state of the route from the old C3 to where it past the Dablam (dodgy). We witnessed quite a few calvings and sheddings of blocks of various sizes and there were doubtlessly others that we didn't see.
Despite the fact that clients from other teams were still summiting I was not convinced that this meant that the route was safe (enough) for our team to progress beyond C3. In particular I was concerned that if anyone were to get injured whilst making an unsupported summit attempt that I would still need to get the Climbing Sherpas in to action to go and assist – thereby rendering any solo action pointless.
To that end it was decided that we would not be attempting the summit at all in 2014 – a decision that was respected by the team and Sherpas alike. We then changed tack slightly and some folk went home, some went trekking and I took some round to Island Peak.
A week after we departed the massive area that had caused so much concern calved – I am so glad that no one was there to be affected. This is the only year that we had no summits but it was exactly exactly the right decision.
Then there was the earthquake in April 2015. Whilst we were trekking out from Everest it was inteersting to note that The Dablam looked to be unscathed and in tact (apart from the fact that it was significantly smaller (by about 15%) from the previous November).
So it was interesting to go back in 2015 and hear that the route was in great condition. Indeed when we got up close and were able to see for ourselves it was obvious that the objective danger from 2014 had been completely removed and the route was probably as safe as I have ever witnessed.
And thankfully it has remained that way ever since.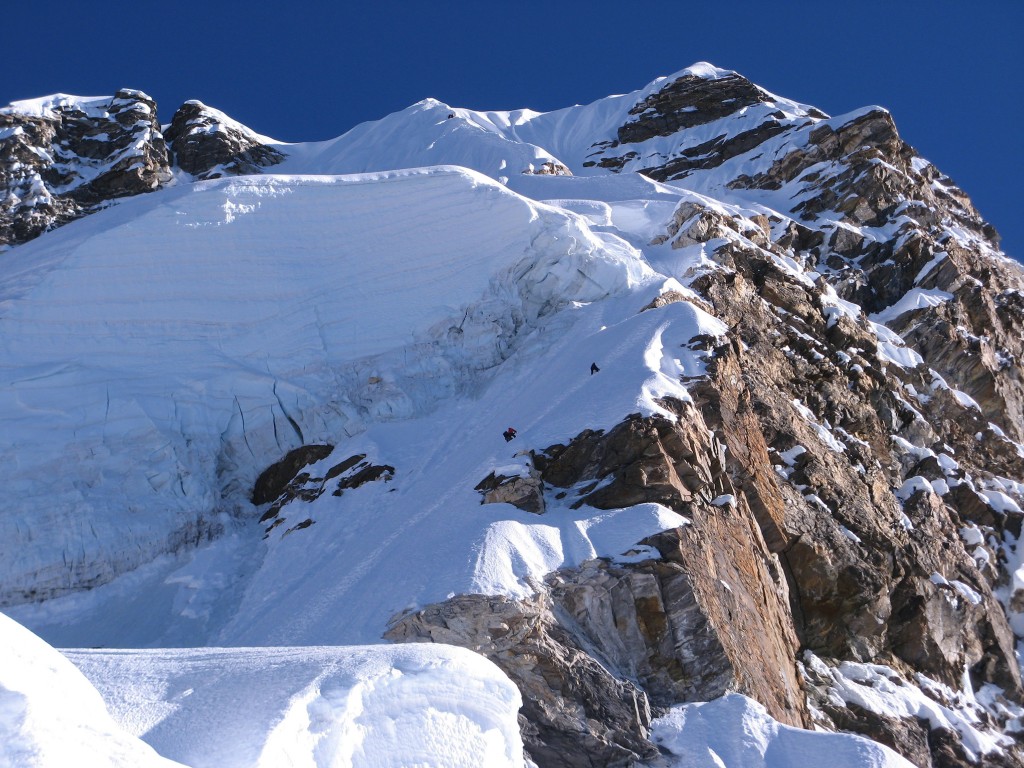 What is next?
To secure a booking for Ama Dablam 2022 or 2023 I require a non refundable deposit of 30% of the trip cost per person
I will need you to forward your flight itinerary (I can provide a good contact for your flight requirements) as soon as you have made a booking so that airport transfers and hotel reservations can be made accordingly
I will also need a copy of your insurance policy which MUST be valid for Ama Dablam – see below. *** The sooner you take this insurance out the better since you are then covered for cancellation cover should your circumstances change and you are unable to make the trip. Remember this is insurance that you MUST have for the trip so why not take it out sooner rather than later for your personal protection?
50% of the outstanding balance needs to be paid 6 months prior to the trip
Lastly I require the final balance to be paid in full 3 months prior to the trip
I also need a Trip Application Form (this will be sent out in June / July)
A brief Mountaineering cv (on initial contact please)
A Biodata Form (this will be sent out in June / July)
A scan or digital photo of your passport sent by e mail
---
Your Expedition Account
The cost of the trip is in US$. You will be invoiced according to the services required and your expedition account will be credited with any payments received.
Payments can be made to a UK bank account or to a US$ account in Kathmandu.
Payments made in GB£ will be converted to US$ at the exchange rate on the day and credited to your account accordingly. If the exchange rate deteriorates your credited payments will be held at the original (better) rate.
Alternatively payments can be made to a US$ account in Kathmandu. I have a contact with XE.com who can assist with payments as they have already verified the account to allow for smooth and seamless transactions.
Any bank charges and currency fluctuations will be your responsibility – your account can only be credited with the amount received.
Cancellation Policy

If you should need to cancel your place on the trip then the following cancellation refunds will apply :-
From booking to 6 months prior to trip – Loss of deposit
From 6 months to 3 months prior to trip – 20% credit to the next expedition
Less than 3 months prior to trip – No refund
To that end please make sure that you take out appropriate cancellation insurance as soon as possible to cover you for legitimate reasons should you need to withdraw from the trip.
---
Which brings us to the next point
Insurance
You MUST have insurance appropriate for the mountain. This means that helicopter rescue and repatriation need to be a part of the policy.
Presently the companies that offer suitable packages are the 'Ripcord' Rescue Travel Insurance policy from Redpoint Travel Protection (e mail them), HCC Atlas Travel, ihi Bupa, Snowcard, Dogtag, Global Rescue and The BMC (although this is not as user friendly as it used to be and you now have to complete a form for consideration).
Naturally, whoever you insure with, please make sure that the policy is valid for Ama Dablam and includes helicopter evacuation just in case it is required.
Please note:
CANCELLATION COVER usually starts immediately your application and payment is received by the insurers. So, for your protection, you are advised to sign up for this at the time of booking.
~~~~~~~~~~~~~~~~~~~~
Why timmosedale.co.uk?
I provide a personal service throughout – from your initial contact to standing on top of our mountain. To that end you will not be getting conflicting advice from someone in an office who hasn't actually been there, as can happen with many other expedition companies.
I am a full member of The Association of Mountaineering Instructors and a qualified instructor holding my Mountain Instructors Award, Winter ML, MIC training and current 1st aid certificate appropriate to the outdoors and wilderness environment. This is quite a rare amongst trek leaders, many of whom are totally unqualified – but that is not to say that they are not good at their jobs.
Since I have no office, admin staff, brochures and general business overheads I offer quality treks at very competitive prices. I use the same in-country agents as many of the big trekking companies and so you can be assured that the quality will be the same. The difference is that with me you will be getting incredible value for money.
With my experience working at Needlesports in Keswick, and having conducted a number of gear reviews for On The Edge magazine, I can advise you quite specifically on what gear and equipment is appropriate for your trip.
Lastly, I am an active year round climber and mountaineer, have trekked numerous times in the Khumbu and successfully climbed and guided on Lobuche East (5 times), Pokalde (7 times), Island Peak (8 times), Mera Peak (twice) and Ama Dablam 19 times. I also have numerous Alpine seasons, Greenland expeditions (over 50 first ascents), Scottish winters, and over three thousand rock climbs under my belt. I summited Everest from the North side in 2005 and summited Cho Oyu in autumn 2006 with 3 out of 4 clients. In 2011 I summited Everest again (this time from the Nepal side, becoming only the 10th Brit to summit Everest from both sides), guiding 4 clients safely to the summit and back down again.  Since then I have made a double summit (2013) and further summits in 2016, 2017 and 2021 to make a total of 7 ascents of the big hill along with 2 ascents of Lhotse. You are in experienced, safe and qualified hands.
Any Questions?
If you have any queries then please do not hesitate to contact me on tim mosedale at gmail.com – I reply to all e mails as soon as I receive them so if you don't hear back immediately please bear in mind that I may be out of reach for a few days.
Alternatively you can call me on 017687 71050 or 07980 521079.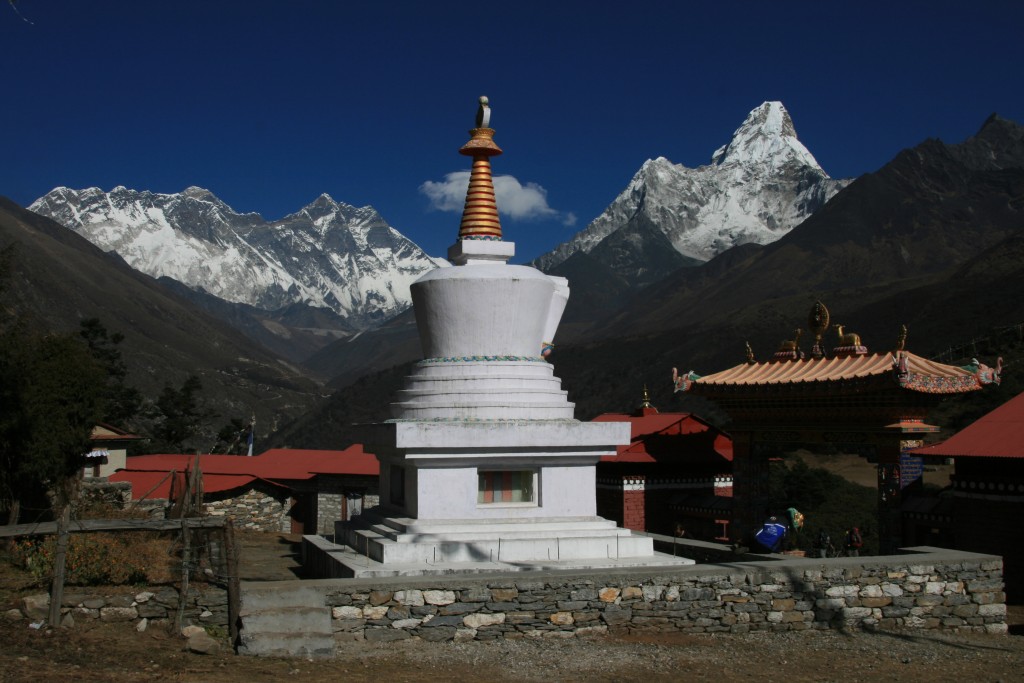 Added Value for YOU
Once you have signed up for the trip, and paid a deposit, I will be available to come and meet you to discuss the trip in more detail if you require (mainland UK – free if within 50 miles of Keswick, £15 supplement per 100 miles thereafter, elsewhere please ask for cost). Alternatively you can arrange to come to The Lakes and we can meet up there.
I have a B&B in Keswick – why not come and visit so that we can have a chat over a beer and a pizza and you can make any last minute purchases at Needlesports.
You can call or e mail me anytime and I will be available to answer your questions.
And lastly it will be me who is your personal contact from initial enquiry to post expedition pizza in Kathmandu – which means continuity.
In the meantime 'Live the dream'
Yours – Tim Mosedale