Ama Dablam Expedition 2020 (& 2021)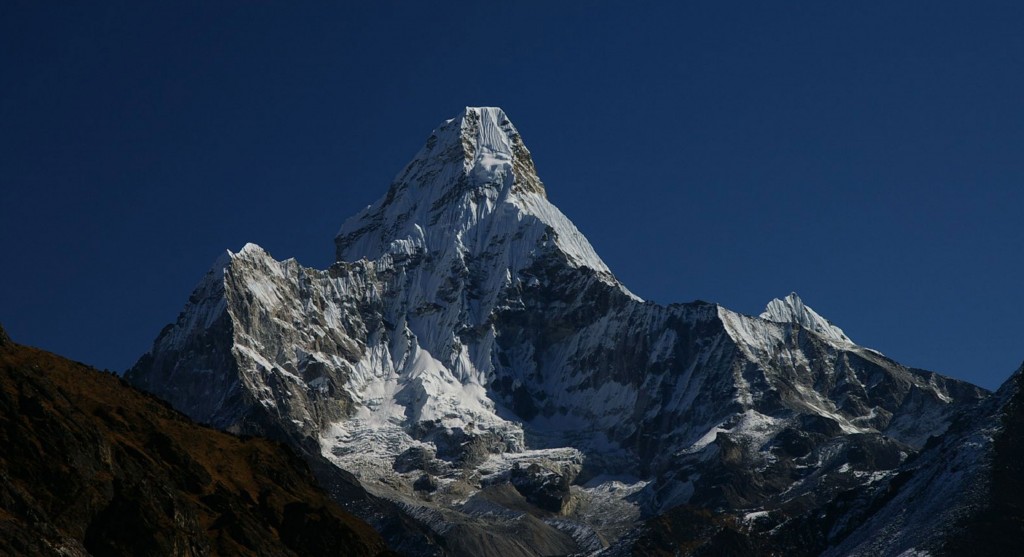 ---
Ama Dablam is, without a doubt, one of the most stunning mountains in the world. The maps report Ama Dablam as being anything from 6,812m to 6,856m – but one thing for sure is that it is over 22,000 feet.
Ama Dablam commands the Everest region and is by far and away the most impressive peak along the Khumbu trail. People who trek in the region will always come away with a few mountain names added to their vocabulary, and Ama Dablam will undoubtedly be one of them.
This trip not only takes in the sights and sounds of Kathmandu, but also the historic trading post of Namche Bazaar and the world famous monastery at Tengboche. What better way to acclimatise and get ourselves ready for the mountain of a lifetime?
I am very fortunate to be intrinsically associated with Ama Dablam. This is a position and accolade that has been developed from the many expeditions that I have run there along with the attention to detail that I and my staff constantly strive to perfect. The most variable factor from season to season isn't the conditions on the mountain, the weather or the logistics – it is the clientele, their differing requirements and the range of time that people take to acclimatise. This is why we run one of the most versatile and flexible itineraries to make sure that you are given the maximum opportunity to develop your own climbing schedule whilst being closely monitored, advised and mentored along the way.
Rest assured – we have a strong and reliable reputation for a very good reason.
---
But please don't just take my word for it that it's going to be a great trip – check out the excellent feedback from previous expedition members.
---
This climbing itinerary is based on a 4 week Saturday to Sunday period as follows:
8th Nov 2020 – Arrive Kathmandu (KTM).
9th Nov 2020 – Sightseeing in KTM. Sort gear / final preparations for the expedition.
10th Nov 2020 – Fly to Lukla (2800m) and start trekking.
10th – 3rd Dec 2020 – Trek to Ama Dablam Base Camp. Rest. Train. Climb. Party.
4th Dec 2020 – Fly to KTM. Sort gear. Sightseeing. Party again.
5th Dec 2020 – Depart KTM.
Dates for 2021 likely to be 7th Nov to 4th Dec … but watch this space.
~~~~~~~~~~~~~~~~~~
If you require a detailed itinerary, equipment list or further information regarding health issues or altitude and acclimatisation then please have a look at the relevant links or do not hesitate to get in touch.
You can e mail me on tim mosedale at gmail . com or you can telephone 017687 71050 or 07980 521079. Please note – I have been having problems with my climb@timmosedale.co.uk e mail account recently so if you don't hear back please, please follow up with a text, a call or you can find me on Messenger.
---
What is it going to cost?
This is a fully inclusive KTM – Base Camp – Ama Dablam – KTM trip for only US$7,150.
The cost includes all meals and accommodation in KTM, heli from KTM to Lukla, fixed wing Lukla to KTM, all meals and accommodation for the trek in to Base Camp, a personal tent at Base Camp, all food at Base Camp and on the mountain, Climbing Sherpas, Medical supplies, Ama Dablam climbing permit, Liaison Officer, Rope fixing fee, airport transfers in KTM, agency fees, etc etc. See the list of inclusions for more details.
If you want to make your own way in to the Khumbu and meet at Ama Dablam Base Camp, or if you want to just join the permit and are arranging all your own logistics, then please contact me so that I can give you a competitive quote.
---
Please remember that these estimates do not include international flights (allow approx £750 – £900).  If you require any assistance with flights I will gladly put you in touch with my contacts – please ask for details.