Ama Dablam – Kit and Equipment List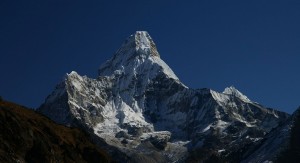 ---
Documentation
[ ] Passport (must be valid for 6 months after the end of the trip).
[ ] Scan or digital photograph of the information pages of your passport (to be e mailed in advance).
[ ] 2 x passport photographs (please bring with you in case they are required for some reason in Kathmandu … getting a SIM card for instance)
[ ] Visa (can be obtained on entry – 1 x passport photo and some GB£ or US$ or €uros required. Please note that there are no facilities to obtain photographs at Kathmandu airport). Alternatively contact the Nepalese Embassy to arrange for a Visa in advance. (Please note that there is conflicting information on the various pages for Visa information for Nepal and it changes on almost a yearly basis. Sometimes there's a 60 day visa option, others a 30 day. So I'm not quoting prices)
[ ] Insurance – this MUST include helicopter rescue, repatriation, be valid for Ama Dablam and the issuing company must accept we may need to instigate proceedings without first contacting them, but this is unlikely since we will have use of a satellite telephone (see here for further details)
[ ] Money. You will probably need around £150 to £200 (US$200 to US$250) personal spending for the trek and expedition phase and £100 to £150 (US$125 to US$200) for Kathmandu depending on souvenir hunting ability. Don't change money at the airport as you will get a better rate of exchange in the Thamel District of Kathmandu. GB£s are fine so no need to bring dollars … unless you already have USD.
[ ] There are cash points in KTM so bring your debit and credit cards just in case.
---
Personal Trekking Equipment
[ ] 50-55 Ltr rucksack (See Note 1).
[ ] Boots / Approach shoes
[ ] Tevas / sandals / Fit Flops / Crocs (optional)
[ ] Waterproof jacket
[ ] Waterproof overtrousers (must go on over trekking boots / plastic boots)
[ ] Duvet jacket (this is a great piece for knocking around Base Camp)
[ ] Lined windproof (highly recommended and much more versatile than a windproof top and a fleece – Marmot's DriClime Hoody, Rab VapourRise, etc). It's worth looking at the Montane Icarus Lite Jacket too which is a slightly different concept being a light synthetic jacket …
[ ] Thermal / wicky tops x 3 min (mix of short and long sleeve). Check out Icebreaker, Smartwool, Montane and Macpac
[ ] Thermal leggings (optional / personal preference – but highly, highly recommended for summit day)
[ ] Trekking trousers x 2 or 3 prs
[ ] Underwear x 5 (minimum)
[ ] Good quality trekking socks x 4 prs.
[ ] Light gloves (depends on circulation as to how thick they should be – a pair of thinnies AND a pair of Powerstretch gloves both recommended)
[ ] Sunhat (baseball style hats not so good as they offer no ear protection from the sun)
[ ] 2 or 3 x 1L Water bottles (NOT Sigg bottles – See Note 2). Please ensure that they are marked in some way so that you can identify them because everyone else will have bottles just like yours. See the Nalgene range
[ ] 2 or 3 x insulated water bottle covers (available in KTM)
[ ] 3/4 season sleeping bag for use at Base Camp (See Note 3)
[ ] Sleeping bag stuff sack (with your name on it)
[ ] Sleeping bag liner (optional – but stops your bag getting too soiled and adds extra warmth depending upon type). Available in KTM
[ ] Beanie style hat (must be comfortable to wear when sleeping i.e. no big seams and poppers to jab you in the head)
[ ] Headtorch – LED preferred due to excellent battery life, no spares required and light weight. Note: it's all very well having a head torch with an integral battery or one that is charged with a cable but you need to consider whether having a torch that also takes AAA batteries might actually be the best option. Check out the range by Petzl and Black Diamond
[ ] Sunglasses (See Note 4)
Go to Sunglasses gear review
[ ] Sunglasses hard case
[ ] Sun cream – Factor 50 or above. (Small tubes preferred for the mountain)
[ ] Lip salve with SPF (x 2) … and don't bring that partially used one from your last ski trip as there will undoubtedly be less in there than you expected
[ ] Toiletries
[ ] Sponge or flannel (makes washing your bits a lot easier)
[ ] Towel
[ ] Small personal 1st aid kit (See Note 5)
[ ] Personal medication (See Note 6)
[ ] Wet wipes (these are readily available in KTM)
[ ] Antibacterial Hand gel (a couple of 50ml tubes should suffice) – again available in KTM
[ ] Multi vitamins (optional)
[ ] Earplugs. You never know – the person you may be sharing with in the teahouse or on the mountain could well be a snorer! And even if they aren't they may well have some bouts of sleep apnoea which could keep them, and you, awake.
[ ] Iodine / water purification / filtration system (See Note 7)
[ ] Penknife / multitool
[ ] Watch with alarm – check out the excellent range by Suunto
[ ] Trekking poles (optional / personal preference). It's got to be Leki … or Black Diamond
[ ] Personal stereo + Batteries (optional)
[ ] Camera + Lots of Film / memory cards + Spare camera batteries.
[ ] Please also bring 8 x AAA lithium batteries for use with the Walkie Talkies that I will issue at Base Camp (I can't air freight lithiums anymore and I can't carry more than what is deemed to be for personal use). These also conveniently double up as spares for your head torch (see above).
[ ] Personal solar charging system (optional). For a great range of super light panels and a variety of power banks check out the gear at Mobile Solar Chargers
[ ] A solar powered inflatable lantern (optional). They're super light (excuse the pun) and make tent life a bit more comfortable whilst not eating up the power in your headtorch batteries. See the range at MPowerD
[ ] Waterproof stuff sacks to separate your gear. Lots to choose from in the Exped range. Please put your name on them. (Cheaper alternatives available in KTM). Much better than rustling through plastic carrier bags in the teahouse and keeping everyone else awake.
[ ] Some ziplock bags usually come in handy
[ ] Reading book(s) / Kindle
[ ] Diary
[ ] Pen
[ ] An old unlocked mobile phone with charger. You can buy a SIM in Kathmandu card for around Rs350 and it's about Rs18 per minute to phone the UK (subject to signal of course)
[ ] 2 Kitbags for portering your gear and storing it in your tent (90L recommended). Available in KTM. Please make sure that these are well marked and easily identifiable because you don't want your 'it's a black / red / yellow 90L duffle' to get confused with all the other black / red / yellow 90L duffles that are going hither and thither with other teams
[ ] A few clothes pegs will also come in handy
[ ] Small combination padlocks (no keys to lose) that fit kitbag zippers
[ ] Tips for the crew – US$250 (or the equivalent in GB£ / €uro / Aus$)
[ ] Climbing Sherpa bonus – US$750 (or the equivalent in GB£ / €uro / Aus$)
---
Personal Mountain Equipment
[ ] Double layer mountaineering boots. Please DO NOT bring Scarpa Alphas – I know that they are now an old model and there aren't many around but they are not warm enough. The Scarpa 6,000ers are a little bit on the light side and they also aren't warm enough. What you actually need, if you like Scarpa, is the Scarpa 7,000er – but they don't make one. La Sportiva Spantik, La Sportiva G2 SM, La Sportiva G2 EVO, Boreal G1 Lite, Boreal Siula etc are all fit for purpose. As a point of interest there are more Climbing Sherpas using G2 SMs up to Camp 3 on Everest than any other make and model of boot. That, to me, has got to be one of the best votes of confidence in a boot that there is. (See Note 8)
[ ] Mountain sleeping bag – I have thought long and hard about this and it really makes sense to have 2 sleeping bags. One for Base Camp and one for the mountain to save you lugging 2kg of feathers up and down the hill. I recommend the Solar Flare Endurance by The North Face or The Wraith by Mountain Hardwear. Also worth checking out the range of bags by PHD and the Rab bags too – in particular the Exped 1200 and Exped 1000. Any fool can be cold and uncomfortable … and if you get a good night's sleep it can make all the difference to how you perform the next day. A -28ºC / -29ºC bag highly recommended … but if you are a cold person then maybe a -40ºC bag is for you.
– latest update … Adventure Peaks are offering my clients 15% discount on high altitude boots, down suits and sleeping bags and other items in their shop (excluding electrical items, books and maps). They have a very good selection and are very knowledgeable. Please visit their shop and mention our expedition. The same applies with Needlesports (15% … or 20% on orders over £2,000)
[ ] Sleeping bag stuff sack (with your name on it)
[ ] Sleeping bag storage bag (with your name on it). Great to leave your sleeping bag in, uncompressed, along with some bits and bobs on the hill. Keeps the tent tidy too.
[ ] Karrimat / Thermarest / Ridgerest (repair kit required if using Thermarest) – again with your name on it
[ ] Gaiters (wide enough to fit over the ankle of your plastics – the OR Expedition Crocodile is a good example). Not necessary if your boots feature an integral gaiter
[ ] Crampons – Heel clip at the rear and 'French' straps or thermoplastic 'Y' toe piece at the front preferred. The Grivel G12 Newmatic, Petzl Vasak Leverlock and Black Diamond Sabretooth Clip are all great however it is worth checking that they fit the curves of your boot (See Note 9). Your crampons need to be razor sharp so alloy crampons are not suitable. If you are contemplating bringing a file …. then you need a new set of crampons!
[ ] Crampon antiball plates (they generally come as standard nowadays)
[ ] Synthetic insulated jacket / down jacket. This is very much a case of knowing how warm you are as a person and whether you need an expedition down jacket or prefer to have a lighter and more packable synthetic insulated jacket. Either which way it needs to be on the warmer side rather than an ultralight version. If in doubt err on the side of caution as it is better to be too warm than too cold. It's much easier to lose heat if you are too warm than to try and regain it if you are too cold. I am a big fan of the Montane Flux jacket
[ ] Synthetic insulated pants … again this is very much a case of knowing how warm you are so this is an optional item if you are warm blooded. The Montane Prism Pants are a good example and weigh in at only 305g! See notes above about being too warm / too cold
[ ] Soft shell mountaineering trousers (See the range at Needlesports, Montane Terra Mission Pants, Montane Women's Terra Mission Pants and the Montane Super Terra Pants These would really benefit from having a zippered thigh vent for dumping heat in the event that you are warmer than expected on summit day (you are not going to be removing your harness to take off leg layers)
[ ] Warm good quality mountaineering socks x 3 prs min. Check out the Smartwool range
[ ] Air activated warm up sachets for summit day. Check out the Heatmax range. A mixture of hand and foot warmers recommended.
[ ] Mountain gloves (preferred to mitts for dexterity but depends on circulation) – see here for some advice. The Black Diamond Enforcer and BD Guide Glove are both great models.
[ ] Down mitts – I highly recommend the Simond Makalu mitt which are incredibly well priced. There's also the Black Diamond Absolute Mitt. Alternatives are also available in KTM generally at a better cost than in the UK / Europe.
[ ] Goggles. In theory if it was that windy we probably wouldn't be setting out … but there are occasions when the summit day weather conditions are suitable on departure but there just happens to be a wind blowing across the face that we hadn't anticipated. On those days a pair of goggles can make all the difference. They need to be at least Cat 3 and, indeed, variable Cat 2-4 ones are definitely preferred. Check out the Julbo range.
[ ] Powerstretch Balaclava
[ ] OR a neck warmer / buff (this probably gives better versatility as it can be used in conjunction with a beanie to give multiple options)
For the next few items have a look at my page about dealing with fixed ropes.
[ ] Light weight harness. Recommended are the DMM Super Couloir or Black Diamond Bod (it's got a belay loop) and the Petzl Altitude which is super light. Please note – DO NOT bring a Black Diamond Alpine Bod (Why not? See Note 12). Here's a range of other ultralight harnesses
[ ] Lightweight Figure of 8 (not a chunky group abseiling device) – try the Super 8 by Black Diamond
[ ] Belay plate as a back up (or just don't drop your belay plate! See the 'How to deal with fixed ropes' article for a cunning approach to using a Fig 8 without dropping it.)
[ ] Jumar (available for hire). You won't go far wrong with the Petzl Handled Jumar (available in L and R). Beware the Black Diamond nForce – their moving parts have been known to freeze up in frosty conditions.
[ ] 2nd Jumar (highly recommended. This is optional – but it is A LOT easier than using prussiks if ascending any fixed ropes 'in extremis' – if you don't bring one but then realise that you wish you had fear not, I have (a few) spare ones (for hire) at Base Camp (and I'll give you a great rate)
[ ] 5 x locking Karabiners. HMS / Pear Shaped Karabiners preferred due to ease of use with gloves on and wide gate opening (But beware … NOT the old style DMM Boa, the DMM Shadow or any 'I beam' karabiners – they don't always fit through the holes in the jumar). 'Autolocking' style karabiners are also NOT recommended.
[ ] 1 x 4m length of 8mm or 9mm dynamic cord (available off the roll from Needlesports)
[ ] 1 x 1.5m length of 6mm static cord (to use as a prussik)
[ ] 1 x 120cm sling
[ ] Helmet – light plastic helmet preferred to a polystyrene one. The ultralight helmets are very easily crushed or damaged when being portered. On the last 4 expeditions there has been at least one damaged polystyrene helmet by the end of each trip. Not due to misuse or rockfall … but by being crushed in the portered / yakked bags. You can always carry it in your daypack … they're pretty light in that respect.
[ ] 1 x ice axe (50-55cm Alpine axe recommended. See DMM Cirque, Petzl Summit, Petzl Summit EVO, Black Diamond Venom and Grivel Air Tech)
[ ] Tupperware box for meals above Base Camp (See Note 10)
[ ] 2 x 1/2 litre wide neck Nalgene water bottles … to use in your tent for hot drinks instead of a mug (See Note 11) but they can also fit inside your jacket on summit day
[ ] A 0.5 litre Thermos flask (optional)
[ ] Plastic spoon
[ ] Pee bottle (I used to say that this was optional but I have been told by numerous groups that it should be down as an absolute necessity. In which case I recommend bringing a wide mouth Nalgene 1 litre water bottle … but please make sure that it is a different colour to your water bottles and marked accordingly to avoid any confusion!)
[ ] For the ladies – you may also need a Shewee. Please practice (perhaps in the shower?) before you need to use it in anger!
---
Extra Equipment you might want to also consider 
(this is IN ADDITION to the above equipment already listed)
[ ] Extra 1 litre waterbottles. Personally I have 5 x 1 litre bottles and 2 x 1/2 litre bottles so that I can constantly have cold water available. I don't find hot water particularly refreshing, or palatable, but that is what is provided as standard by the cook crew. So I have a bottle of cold water that I am drinking, a bottle that is cooling and a bottle that I have just filled with hot water. In addition I can then leave a water bottle at Camp 1 which will be there for when I go back again on the next rotation (as well as the one that I will carry down the hill with me and another few waiting for me at Base Camp). These are available in Kathmandu if you want to buy a few before the start of the expedition
[ ] a 2nd Pee bottle (wide mouth Nalgene 1 litre water bottle). Again this is an item that I can then leave on the mountain rather than carting up and down to use at Base Camp and at the high camps
[ ] Small (and I mean really small) tubes of sun cream for when we're on the mountain. 2 tubes would probably suffice in addition to the other tubes of sun cream that you'll use for the trek. A non freezing (oil based) cream is recommended. Please note that sunsticks, whilst very convenient and handy, do not get in to the creases in your ears so they are best avoided
[ ] Battery operated footwarmers. If you have any doubts about your circulation (bearing in mind that it will be compromised by the lack of oxygen the higher you get) then these could well make the difference between summiting or not
[ ] A pillow! Yes you can make something with a down jacket popped in to a stuff sac (and indeed that is what I do on the hill) but at Base Camp … a pillow is the business. Thermarest do a compressible pillow or you could get one on the international flight (but don't tell them I told you). For that extra bit of luxury try an inflatable pillow (I am reliably informed that they are a game changer). See here and here
[ ] Down booties. You can get these in the UK or at a fraction of the price they are available in KTM. Great for knocking around in at Camp 1 and Camp 2
[ ] Although there is a very varied menu available and loads of snacks and goodies are provided you may also want to bring along a few personal snacks for that extra boost. I have never been a Gu and IsoGel fan but I recently tried some of the Kendal Mint Co gels and they were brilliant. No I wasn't paid and no they weren't a commercial freebie. I tried one at Everest Base Camp and was an immediate convert and decided that they were definitely worth a try on the hill. Bearing in mind the mantra that 'weight is the enemy at altitude' I felt that they were a justified addition to my already heavy pack. Tenzing and I summited Lhotse from Camp 3 – an ascent of around 1,500m with a descent of 2,000m or so back to Camp 2 later that day. I had a litre and a half of water, a pack of Jelly Babies and four sachets of KMCo minty gels (one of which I gave to Tenzing and he was mightily impressed too). They were easy to digest, easy on the stomach, very very tasty and, at 8,000m and after 10 hours on the go, felt like rocket fuel. I'm not sure what their energy bars are like but certainly I recommend the Kendal Mint Co range of gels.
[ ] A hat that will keep the sun off your neck no matter where you are. The Outdoor Research Sun Runner Cap is an excellent choice and whilst it may not look very fashionable neither does sunburn. Another alternative is the Jack Wolfskin Supplex Hat or just a good old traditional Tilley Hat
---
Notes
1. A 50L to 55L bag with a floating lid, side straps and compression cord will be necessary. If you bring a larger sack you'll only fill it and be more susceptible to the affects of altitude. Please Note – it is well worth having a comfortable sack, preferably without side pockets so that thermarests / sleeping mats and any other gear you can't get inside can be strapped to the sack using the side straps. The Fast Alpine by Montane, the 55L Mountain Hardwear AMG, the Crux 3G AK47 (extendable) and the Black Diamond Speed 50 worth a look at. Personally I would steer clear of any roll top closure systems as they tend to be more hassle than they are worth – especially when the sac is only partially filled but you still want to have a bunch of stuff in the lid compartment (a classic scenario on summit day).
Back to kit list
2. Nalgene Lexan wide neck preferred – won't burn your hands when it's hot, easy to fill with hot water and won't stick to your lips when cold. Platypusses (Platypae?) / Camelbacks are fine for trekking but NOT so good for early starts on the mountain – the tubes tend to freeze even with insulators. If bringing a Platypus / Camelback then you also need a 1L wide necked water bottle for summit day. Please DO NOT bring Sigg bottles. They are a nightmare to fill with hot water, they will invariably burn you if you use them as hotties in your sleeping bag, you'll spill water everywhere when you try and fill it from a pan of water when cooking on the mountain, they are prone to leaking if dropped or damaged and will stick to your lips when they are cold. Don't say I didn't warn you!!
Back to kit list
3. This depends upon your circulation and metabolism so please buy accordingly. If in doubt, though, err on the side of caution and get a warmer rather than a cooler bag. Most people tend to need a 4 season bag for Base Camp. We have (rarely) had temperatures down to -18º at BC (although the temp at C1 was warmer!)
Back to kit list
4. Glasses should provide 100% UVA/UVB block. Category 3 lenses are fine for the trek in but category 4 are required on the mountain. If you want to look chic on the mountain then sunglasses are fine but they need to hug the cheeks well and mustn't allow excessive amounts of light to be reflected from the snow and rocks around you in to your eyes. Alternatively glacier glasses with detachable side pieces may be the answer.
Go to Sunglasses gear review
Back to kit list
5. Plasters, blister kit, paracetamol, throat lozenges, re-hydration salts, immodium, dextrose tablets – all these items are available in Kathmandu. Please note that Diamox and antibiotics such as Amoxycillin and Ciprofloxacin are also readily available in KTM at a fraction of the cost of a prescription. There will also be a comprehensive expedition 1st aid kit but it is handy if you have a few bits and pieces to be able to deal with minor injuries and ailments yourself whilst on the mountain. For more information please read Health and Hygiene and Altitude issues which will expand on this in more detail.
Back to kit list
6. I need to be notified of any personal medication that people may be bringing so that I can prepare the group 1st aid kit accordingly. I will also need to know of any allergies to food or drugs that members may have. This will all be in confidence unless it is deemed important enough for other members to know about – in which case this will only be done with your consent.
Back to kit list
7. This is very much a personal preference. All water provided by the crew will have been boiled. Packets of flavoured drinks available in KTM if bringing Iodine.
Back to kit list
8. Please bear in mind that your circulation may be slightly compromised because of the rarefied atmosphere. To that end you may have slightly colder feet than you would otherwise expect. Another aspect is that you may get peripheral oedema which is a benign condition where the feet and / or hands and / or face may swell slightly. In which case a snug boot then becomes a tight boot which is a cold boot because any pressure on the capillaries will compromise your blood flow. When selecting boots please err on the side of caution because there isn't a problem about having feet that are slightly too warm. Sober in mind that ½ a size too big is far better than ½ a size too small.
Back to kit list
9. Your crampons must be totally compatible with your boots. This is not only in terms of the rigidity of the boot and the crampon but also you need to pay attention to the curvature of the boot and crampon. If the boot has an asymmetric shape from heel to toe then the crampon will need to have an asymmetric shape or you can often buy asymmetric bars to cater for this. Also the curve of the crampon should match the curve of the sole – don't try and force a boot with a turned up toe on to a crampon with a totally flat profile or vice versa. You will possibly need an extension bar if your boots are of a larger size. The best bet is to take your boots to a reputable outdoor shop with staff who are knowledgeable in these matters. Please DO NOT bring metal toe bail crampons unless they are a VERY good fit and there is a very deep recess for the bail at the front of your boots. Please bear in mind that if you buy metal toe bail crampons that you may be very limited to the next pair of boots that you buy as the fit has to be very precise. With crampons that have a heel clip and 'French' straps or thermoplastic 'Y' toe piece at the front you will have much more flexibility with the boot / crampon fit in the future.
Back to kit list
10. A 1 to 2 litre round (no corners for food to hide in) tupperware box works well for cooking and eating on the mountain. For instance, when we have couscous you can add the water, seal the lid and place it in your down sleeping bag. 7 minutes later 'Hey presto!' – you have a meal and you haven't spilt a drop.
Back to kit list
11. Again this is very much a personal preference. An insulated mug works really well at Base Camp for keeping drinks warm but on the mountain the spillageability is way too high for my liking. And bear in mind that when (not if) you do spill your hot drink it will end up all over your tent partner's sleeping bag. A 1/2 litre wide mouth Nalgene bottle will do a better job as there is less much less likelihood of spillage when you pop the lid back on. Plus a 1/2 litre bottle quite literally doubles up as a water bottle and will be neat enough to fit inside an internal jacket pocket on summit day.
Back to kit list
12. It's not often that I get really opinionated about kit because there is so much good stuff out there nowadays. But I am afraid that I find the Black Diamond Alpine Bod to be an unacceptable piece of gear. Yes it's light and packs down small and is easy to put on but it has some MAJOR drawbacks. It doesn't have a belay loop which means that you have that funny dangly bit at the front of the harness. 'So what?' I hear you say. Well there are 2 downsides to this. Firstly they recommend that for abseiling you clip a locking karabiner vertically in to the leg loop and waist belt, which means that it is captive, which means that you could quite easily get a 3 way load (BAD). There have been a number of instances in the past where Fig of 8s have broken locking karabiners open (VERY BAD) and people have become detached from their abseil rope (EXTREMELY BAD). I hasten to add that this has not happened with any of my clients. I would also add that I don't know what harnesses these people were wearing at the time – but it would appear that they did have their locking karabiner in the manner described rather than in their belay loop.
The second drawback of this dangly bit is that it is quite possible for you to only connect yourself to the dangly bit and to 'miss' the waist belt by accident. Hard as it may seem to you in the comfort of your sitting room or office when you read this, but there have been occasions where people have inadvertently clipped in to their rucksack waist belt rather than their harness waist belt. You are tired, you have big gloves on, you have a big down jacket on that obscures your vision, you clip in to the leg loop dangly bit but not the waist belt of your harness (you inadvertently clip the rucksack waist belt), you have a big rucksack on and before you know it you are upside down. Why take the risk? Just DO NOT come along with an Alpine Bod.
Back to kit list
---
Please check out Needlesports for their range of gear and contact them directly when placing an order. They give a discount on clothing and equipment of 15% for orders over £1,000 and up to 20% if over £2,000.
Whilst this is a comprehensive list you will know what items of clothing and equipment you regularly use and what works well for you. If you have any questions about what is required, or what can be hired, then please do not hesitate to contact me
Yours – Tim Mosedale